Library of Catalonia
---
The Library of Catalonia receives the sculptural work Scutum Civis, by Joan Pedragosa
---
Beta Albuixech, widow of Joan Pedragosa, has donated to the Library of Catalonia the sculpture SCUTUM CIVIS (1999), made of steel and measuring 220 x 160 x 80 cm.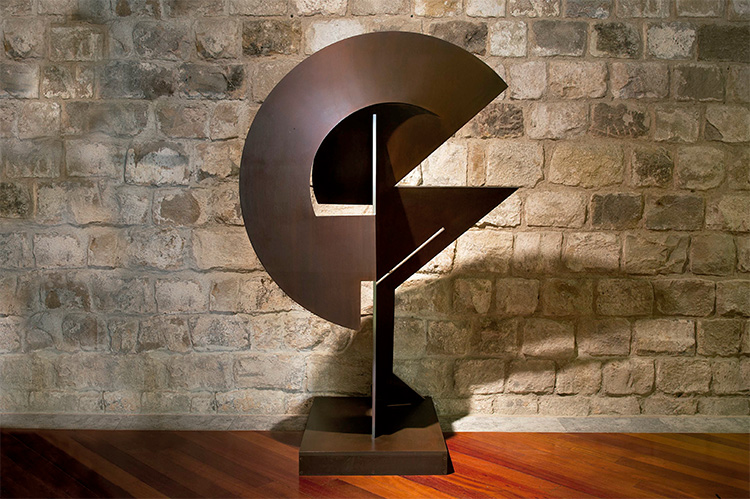 The sculptural work Scutum Civis in the lobby of the Library

The work belongs to the Spirals series, and has been installed in the lobby of the Library. Joan Pedragosa Domènech (Badalona, ??1930 - Barcelona 2005) was an outstanding graphic designer, founding member of the Association of Graphic Artists of the FAD. In the last years of his life he entered the world of total sculpture. His sculptural work is characterized by large-format pieces and solid materials, with which he transferred to metal his experience in the interpretation of volume and the use of geometric resources, achieving a great capacity for abstraction and formal reduction.

In 2007 the family donated the graphic work of Joan Pedragosa to the Library of Catalonia.

In 2021 the Library organized an exhibition, "Joan Pedragosa, Advanced Design", and published the monograph "Joan Pedragosa, Graphic Work".

The Library of Catalonia is very interested in being able to incorporate the sculpture Scutum Civis into its collection, because it exemplifies another facet of the artist, and complements the graphic work that it already conserves.